When asked how to choose a font I always ask what the font needs to convey. Typography is one of the most valuable skills a graphic or web designer can use to tighten up a message and to convey a meaning which is not just what the words say but how they look. Think of all type from a wordmark to body copy as having a message that it needs to speak visually and make sure it does not just communicate with the words alone. Choosing the correct typeface is essential to conveying the right meaning when mixed with a visual design.
There are several excellent resources on the internet that can help you in the process.
My favorite place to choose a font
FontShop has an education section that can teach you almost everything you need to know about typography:
Meet your Type is a particularly useful guide when that helps show you  how to choose a font.
Identifying Fonts
An excellent tool for identifying fonts is WhatTheFont.
Using Custom Fonts on the Internet
Although you may have a licensed version of a font for use in print productions that does not guarantee that the font is licensed for the web (in most cases it does not). Most font sellers provide a way to license the font for the web. However not all fonts are available for use on the web.
Licensing fonts for the web can be expensive. Take a look at the following sources for FREE Royalty Free Fonts for Use on the Web.
http://www.google.com/webfonts
Choosing a font from the above sources will ensure the most cross comparability between your print and online portfolios.
Info-graphics that help you choose a font
If you are looking to find the right kind of font for designing your logo or setting type for a design or article, this flowchart from graphic designer Julian Hansen is an excellent starting place.
So You Need A Typeface is an infographic dealing with the subject of choosing the right typeface for a project. The list is (very loosely) based on the top 50 of the Top100 Best Schrieften by Font Shop.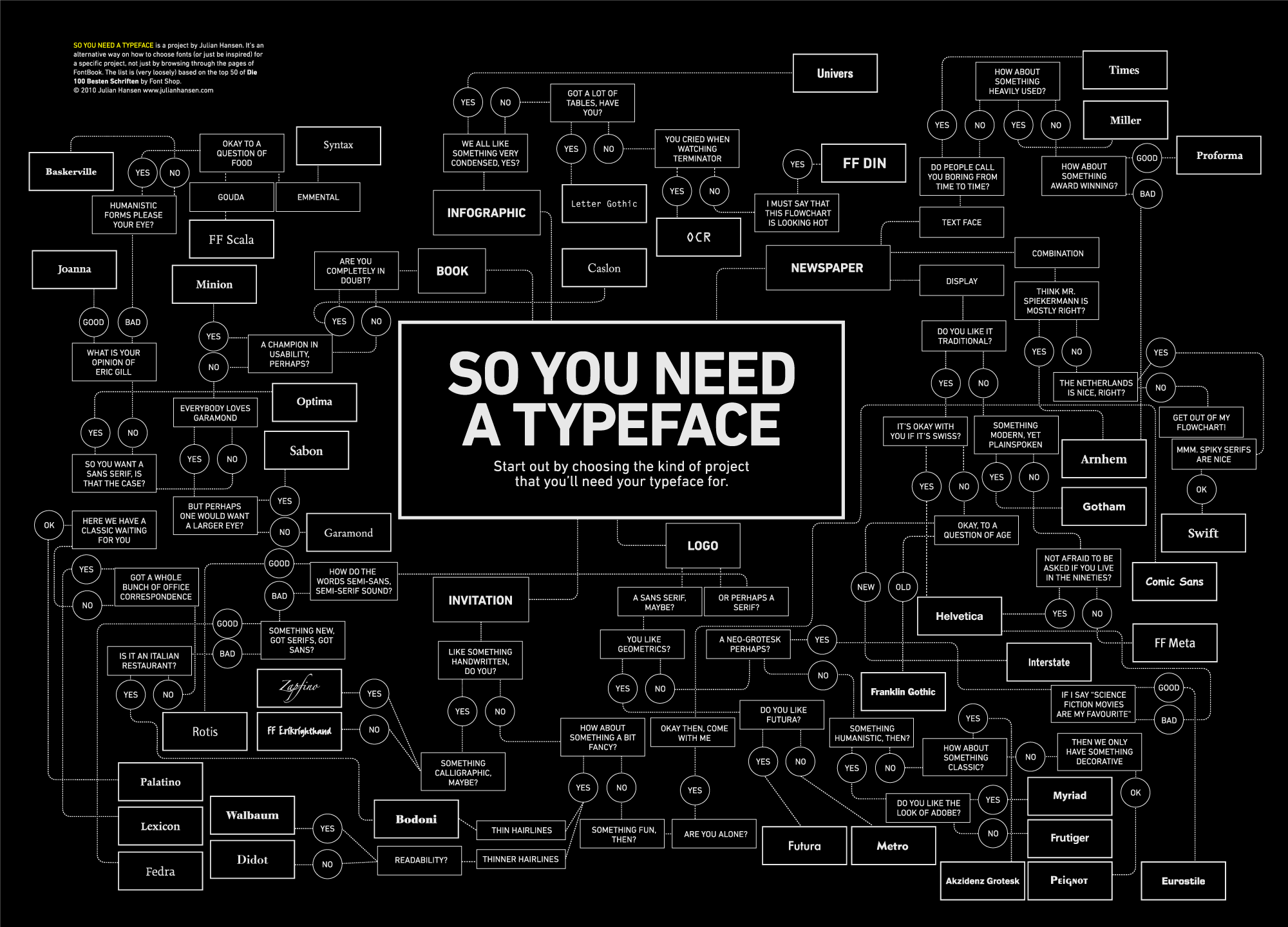 Another excellent infographic is the periodic table of typefaces by Frederik Samuel founder of typegoodness